Powder coating is the youngest of all the surface coating techniques introduced into the uk in the 1970s it is widely used in the automotive, engineering and construction industries.
Powder coat is generally used for the coating of metals, although new technologies have been designed to allow the coatings of M. D. F and some plastics.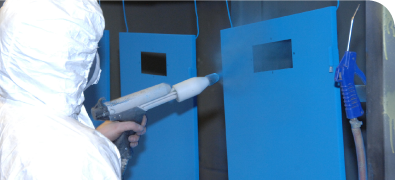 Powder coat is applied as a free flowing dry powder using electrostatic guns and then heated in an oven to form a skin this process is called curing. Powder coat gives a thicker dry film layer than conventional spraying, and because of the electrostatic application and curing process a more consistent finish is achievable when trying to coat something of a complicated design.
'Powder coat comes in a range of colours and finishes and is generally the cheapest, quickest and most durable of all the paint systems.'
Why choose Powder Coat and not Paint?
More friendly to the environment
More durable than liquid coatings
Quicker process which means faster turnarounds when time is an issue
Thicker coating to hide metal defects
More consistent thickness in areas where you couldn't get a paint gun
Cheaper process compared to paint finishing

ENVIRONMENTALLY FRIENDLY
Powder coat uses no solvents to suspend the pigments and resins which means it releases no V.O.C [volatile organic compounds] into the atmosphere.
Also at TW Coatings we make sure all of our powders used contain no toxic materials such as lead or chromium making them a safer product for the environment and our staff.
Further Information
Requiring further Powder Coat information please give us a call 01202 895 795 or go to the links below: